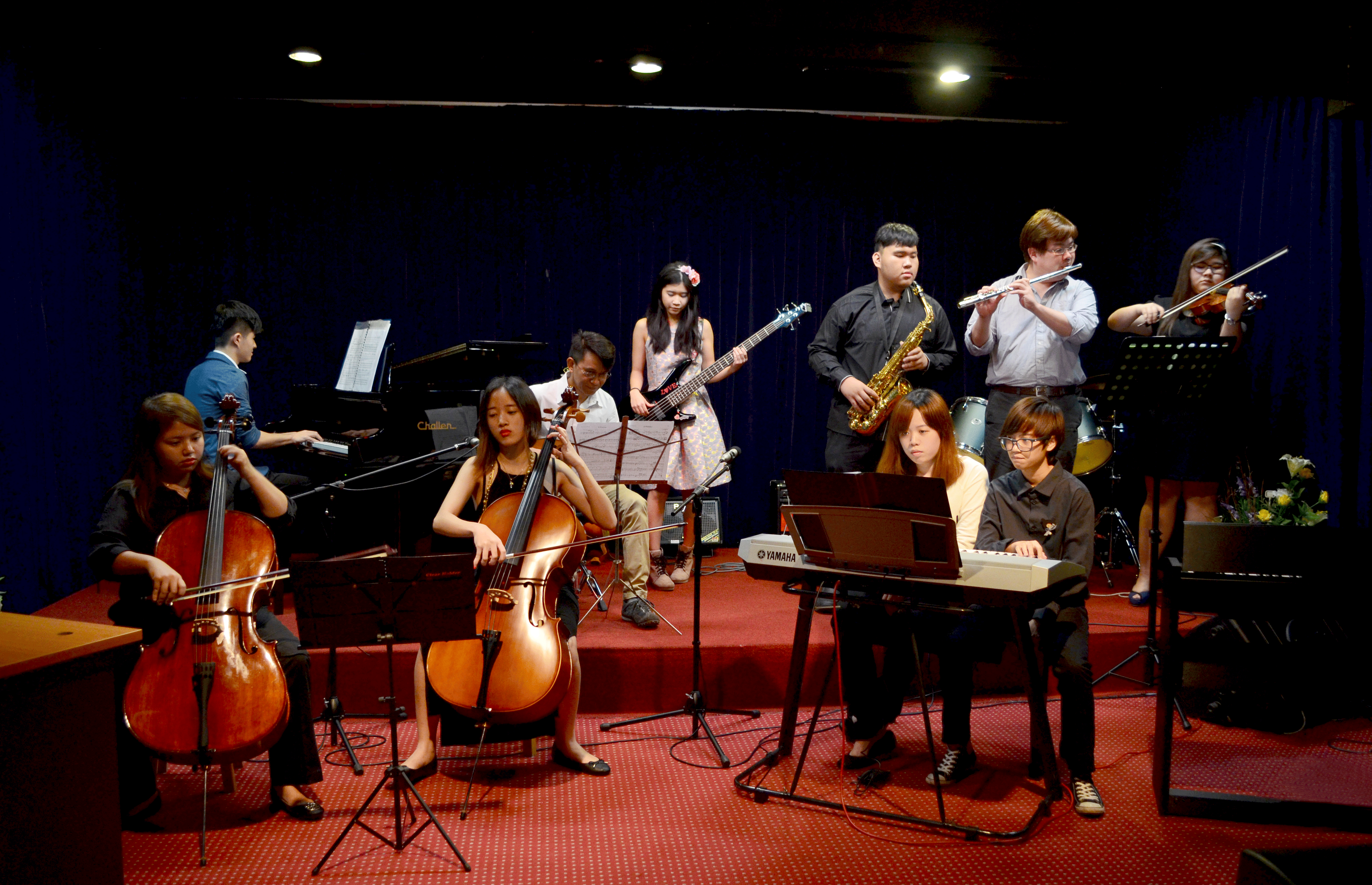 IMH Academy students playing music to their hearts' content
KUCHING: Homegrown IMH Academy, established since 1999 for music education in East Malaysia, is now accepting applications for the May intake of Diploma in Music.
The first and only private college in Sarawak offering tertiary music education approved by the Ministry of Education and accredited by the Malaysian Qualifications Agency (MQA), it offers the two-year programme where students study a wide spectrum of modules including major and minor performance, music history, music pedagogy, orchestration, arranging and composition to name a few.
Students will also be exposed to Sarawak music instruments to have a better understanding of ethnic music roots and heritage at the academy.
"We are training our graduates, in whatever area of music they choose be it classical, contemporary or technology to have understanding of their roots and their own heritage and see how to bring these to the area of their expertise so that the music will be done in taste and refinement. Not destroy our arts," IMH Academy executive director Dr Geraldine Law-Lee said, stressing on the importance of exercising care with traditional music.
IMH's Business Development/Corporate Affairs Ho Swee Jack explained upon completion of the programme, a student can either look for a job with this nationally recognised qualification, or articulate into a Bachelor Degree with advance standing from IMH Academy's partnering universities in Malaysia and overseas.
IMH's partnering universities include University of Tasmania, Nanyang Academy of Fine Arts, University of South Wales, Universiti Sains Malaysia and Universiti Sabah Malaysia.
The minimum entry requirement for this Diploma in Music Programme is 3 credits in SPM (including Maths and English) and at least Grade 6 theory/practical qualification for piano major, or Grade 5 for other instrument major.
"However, for those who do not have formal training in music but can play an instrument or sing well, we will provide intensive courses to help develop the required skills and knowledge before they enrol themselves in this programme," Ho said.
In IMH, students are required to attend an audition as part of the entry requirement in order for IMH to identify their strength and weaknesses.
One of the unique features of studying a specific module such as pedagogy will be placed in any of the subsidiary companies within the group for practicum and therefore have the opportunity to get hands-on experience.
In addition, IMH is consistently involved in may local and international musical events where students will be given a chance to perform on stage in those events.
Ho pointed out: "Some of the major events which involve IMH students include Gawai Celebration 2012 at Pullman Hotel, AIFFA 2013, Azam's 31st Anniversary Luncheon at Hilton Kuching and Una Noche de Musica 2014 at ACCPC St. Joseph's Kuching to name a few."
At IMH Academy, students will be learning from experienced and qualified lecturers, as well as many frequent visits by world renowned musicians and concert pianists to conduct master classes and workshops.
Apart from teaching staff, IMH is also fully equipped with its own small and larger auditorium, simple recording facilities for education purpose and library that houses hundreds of titles related to classical and contemporary music.
Students enrolled in this programme are entitled to apply for PTPTN loan. Parents can also withdraw part of their EPF savings to fund their children's education.
Music alway brings joy as well as fulfilment as a career. Graduates of this diploma will be equipped with the knowledge and skills required to be a professional performer, educator, and even a successful music business owner.
Under their professional tutelage, IMH has produced many successful musicians who have achieved excellence in teaching, performing and even running their own music business.
This diploma in Music is particularly suitable for those who already have some prior training in music to develop their fullest music potential and to contribute to the social welfare of the community.
For more information about IMH Academy, visit us at www.imh.my or like our official facebook page at www.facebook.com/IMHKuching.
For enrolment, please call 082 – 424 658 or email at imhkuching@gmail.com.