The Language Specialist House (LSH) & Pusat Tuisyen Bersatu (PTB)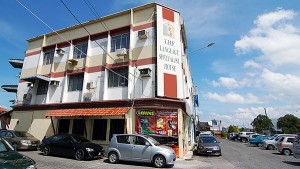 The Language Specialist House (LSH) and Pusat Tuisyen Bersatu (PTB) are devoted to help students achieve academic excellence, acquire social communication skills and developed self confidence; all of which are valuable assets that are carried through to adulthood.
LSH and PTB offer guidance in English, Bahasa Malaysia, Mandarin, Mathematics & Science for pre-school up to secondary school levels.
LSH also offers language enrichment programmes for adults and language courses for students preparing for entry into institutions of higher learning.
Academia Par Excellence
LSH believes in the attainment of excellent academic results. Its special exam classes for PT3 and SPM help students to better prepare for these major public examinations.
The Learning Environment and Facilities
All LSH students benefit from the small class size which enables academic staff to provide more personalized attention and support. Class sizes are restricted to a maximum of 15 students.
The library is open to all students on a daily basis. LSH takes pride in nurturing its student to develop the love for reading which opens up the world of life-long learning.
Language, Intelligence, Development and Drama (LIDD)
LSH believes that the EQ development of individuals as important as nurturing their IQ. A high level of achievement in oral communication and social interaction skills greatly enhances self-confidence.
That is why LSH provides ample opportunities for each student to participate in various activities such as story telling, dialogues, poetry recitations, language games and expression of ideas in a class or more formal setting.
This LIDD approach is very effective as it makes learning fun and more accessible. The LIDD concept also helps teachers at LSH to prepare students to sit for the London College of Music (LCM) & Media Oral Communication Examination.
The LCM Examinations are intended to assess and encourage a wide range of interpersonal skills which will be of immense value in their future personal and professional life.
Pusat Tuisyen Bersatu (PTB)

PTB offers its students the unique opportunity to experience the wonders of Science and Mathematics to close and personal with 'magical activities. Their curiosity stirred, the concepts put forward are so much easier and enjoyable to understand and thus to remember and use.
Language for Entry into Institutions of Higher Learning
LSH prepares students to meet the language requirement for entry into institutions of higher learning. Courses offered include:
MUET
ELTS
Pitman Qualifications (City & Guilds)
Language Enrichment Programmes for Adults
LSH offers language enrichment programmes for adults in English and Mandarin. Experienced and dedicated teachers are assigned to offer help and guidance.
Adults may opt for individual coaching through special arrangements.
Corporate Language Training Packages are available upon requests, tailored for the specific needs of the corporation.
Language Proficiency Testing
Adults can obtain formal qualifications in English which are recognized by employers worldwide.
LSH is a registered testing centre for Pitman Qualifications (City & Guilds) in oral and written English.