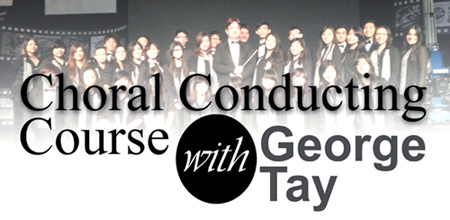 14-16 August 2013
Early Bird Price : RM280 (before 1st August 2013)
Normal Price: RM300 (2nd August 2013 onwards)
"A great opportunity for school, church and community chorus conductors. Musicians who likes to learn how to conduct a choir are welcome too."
The choral conducting course at the International Music House, lead by George Tay, is unique in that it provides a wonderful path for those new to conducting and is equally challenging and inspiring for those with experience. George Tay has obtained both BA (Hons) in Music and MA in Music Education from London, UK. With 17 years of teaching experience in UK, USA and Malaysia, he has educated diverse group of students from different nationalities and ages. He studied choral and orchestral conducting with Dr Colin Durrant, Denise Ham, George Hurst, Rudolfo Saglimbeni, Robert Houlihan and Toby Purser in UK.
Few highlights of the course
Fundamental knowledge for choral conductors
Conducting techniques
Choosing Repetoire and rehearsals
Communication
Participant Registration Form
Error: Contact form not found.